Iben Browning died of a heart attack on July 18, 1991
Story: July 20, 1991
Town 'owed a debt' to Browning
By The Associated Press

NEW MADRID, Mo. - Iben Browning may be gone, but he will not soon be forgotten by this small southeastern Missouri community that he almost singlehandedly made famous.
Browning, who gained the nation's attention last year when he projected a major earthquake would hit the New Madrid Fault, died Thursday in Albuquerque, N.M., of a heart attack. He was 73.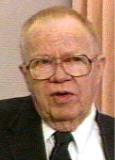 "We owe him a debt of gratitude," New Madrid Mayor Dick Phillips said Friday. "I respected the man's intelligence. In this particular case, thank God, his prediction didn't come to pass, but it made us realize that we had never made any kind of preparations for a natural disaster. We owe him for that. "
Browning had said there was an even-odds chance that a big quake would strike the fault, which runs through parts of Illinois, Missouri and Arkansas, last December.
Many residents along the fault left the area during the week that Browning projected the quake would hit, while others stockpiled food and supplies. Some schools canceled classes.
Law enforcement officers and rescue officials set up emergency headquarters and participated in mock rescues in anticipation of the quake that never happened.
The town was inundated by the news media and the joke made the rounds that the greatest danger residents faced was being run over by a television truck.
Browning was highly criticized by the experts who said there was no scientific basis to his prediction.
Many residents enjoyed the notoriety, however, and no one could deny that it had turned New Madrid, at least briefly, into a boomtown.
Albuquerque consultant Nelson Winkless said he hoped his longtime friend and associate wouldn't be remembered solely for the forecast of the New Madrid temblor that never happened.
"He did a zillion things," Winkless said of Browning, who had worked in such diverse fields as artificial intelligence and bioengineering, and who held dozens of patents.
---
The Mid-South Earthquake that Never Was
Published: Wednesday, 20 Jan 2010
MyFox tv, Memphis: Les Smith
An earthquake conference in Arkansas this week will be focusing on modern scientific studies of the catastrophic phenomenon. Also on the agenda will be a discussion about a man most famous for predicting a monumental disaster 20 years ago that didn't happen.
Was he a latter day Nostradamus-like prophet? Or nearly 20 years ago, after his infamous incorrect prediction, should we consider climatologist, the late Dr. Iben Browning, the prophet of his own doom?
In August 1990, Browning told an interviewer, "There's probably a 50-50 chance of Richter 7 plus earthquake on the New Madrid Fault on or around the evening of December 2nd or the morning of December 3rd."
| | |
| --- | --- |
| | |
| Iben Browning (file pic) | Gary Patterson, spokesman for CERI |
Memphians, just like the rest of the Mid-South, had caught a rabid dose of earthquake fever. Dr. Browning's prediction focused world attention on the rural community of New Madrid, Missouri, which he warned would be the epicenter of a destructive quake. Despite Browning's statistical barrage to back up his claim, based on influence of celestial bodies, planetary alignments and gravitational pulls, scientists in droves sought to debunk Browning's theory of eminent disaster.
Gary Patterson, with the University of Memphis Center for Earthquake Research and Information, reflects about Browning, "He was very successful in predicting business trends through statistics. A lot of earthquakes are about statistics. He applied those methods in California and successfully predicted a moderate size earthquake. Some say he predicted the 1989 Loma-Paloma earthquake. That's debatable to me."
As the day of the "Big One" approached, the media descended on the bucolic town like white on rice, eager to talk to any of the local residents about staring into the face of death.
But, one lady irreverently observed, 'It's almost as good as the hog show we used to have about 20 years ago. People came to town for that, too [laughing]!"
However, not everyone took Browning's warning lightly. All up and down along the 120 mile fault line, in towns big and small, flashlights and distilled water flew off shelves. Schools closed for days in advance. And there were disaster drills where "stop, drop and roll" briefly replaced "rock n' roll" as the "roll" of choice.
But, guess what? December 3, 1990 came and went, and so too did any semblance of respect in the scientific community for Dr. Browning, who would die less than a year after he'd made the ill-advised prediction.
Patterson says of modern earthquake research, "We do things through the peer-review process not just because we think we're right. That's the way science works and the way it should work. It's not a perfect system. But, it's as good as we can make it."
As for the legacy of Dr. Browning, Patterson concluded, "There's no doubt, that for a moment in time, Iben Browning increased earthquake awareness in the region more than anything we've done in a long time."
---
Powered by ShowMe-Net