Applying lessons from China's quake to Ky.
In contrast to Missouri's Bootheel just across the river, almost none of Kentucky has much liquefaction danger. If Kentucky or Barkley dams would break, ... but that isn't a big concern. For 30 years, the Kentucky experts have tended to cry "overkill" to quake concerns on the far western end of their state.
By Tom Eblen
Lexington Ky Herald-Leader columnist
Sun, Jul. 13, 2008 - portions cut
University of Kentucky earthquake researcher Zhenming Wang spent 10 days last month in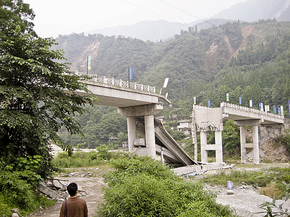 central China, examining the devastation and gathering data from the May 12, 2008 quake.
"Everywhere I went, if they put just a little design and construction attention to it, it was fine," said Wang, who is from southeast China, far from the earthquake zone.
Photo: collapsed bridge in China - taken by Wang.
"If people had just spent a little more money... economically, they could have afforded to do it. This was both a natural and a man-made disaster."
While China did too little to prepare for this earthquake, Western Kentucky might have done too much. Wang said his research estimates that ground-shaking around Paducah during a worst-case New Madrid quake would likely be only half as strong as previous estimates.
"Previously, in Paducah, builders had to do more than in San Francisco and L.A., and that just didn't make sense," he said. "I can now see several federal agencies revising certain things."
Wang said there are differences in geology between China and Western Kentucky and Tennessee, and many more differences in topography. For example, many people in China died in huge landslides. "We certainly wouldn't have this landslide issue, because our land is flat," he said.
But there is danger from so-called "liquefaction," where the ground basically turns to soup and buildings sink. That's of special concern in Memphis.
Based on his research, and other new science, Wang thinks some building codes for bridges and public buildings in Western Kentucky could be further eased, which would save money and help the area's battered economy. Residential building codes already have been revised in recent years.
"Clearly, the estimate for ground motion in Paducah is too high," Wang said. "The methodology they used is flawed. It was based on what we knew in the 1960s and 1970s. We know more now than then."
Wang said he hopes his research will be useful in finding the right balance in earthquake construction standards – protecting public safety without unnecessarily driving up costs.
"My job is to look at the science, and let the policy-makers make those decisions," he said.
------------
http://www.kentucky.com/181/story/459818.html
Reach Tom Eblen at 1-800-950-6397, Ext. 1415, or at teblen at herald-leader.com. Read his blog, The Bluegrass & Beyond, at Kentucky.com.
---
Powered by ShowMe-Net