The Memphis Aquifer - Reelfoot Rift
Geologic History of the Memphis Area
During the Proterozoic Era, some 600 million years ago, an area in the middle of the United States, called the Mississippi Embayment was pushed upward by molten rock from the underlying mantle.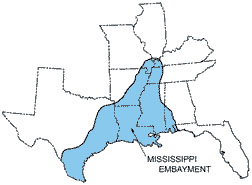 A number of faults formed and over many millions of years, a rift also formed. This rift is called the Reelfoot Rift. A pillow shaped structure was formed as dense mantle material was injected into the lower crust. This pillow shaped structure was heavier than the surrounding rocks. As upwelling ceased, the rift subsided (due to the heaviness of the rock). It soon filled with sediment eroded from its flanks. Then seas filled the area and covered them with thick sequences of sediments. These sediments eventually hardened into limestones, sandstones, and shales. These layers are pictured in the diagram, right.
About 200 million years ago, during the Mesozoic Era, rifting took place along the east coast of North America. This resulted in continental stretching and the Reelfoot Rift being pulled apart in a new episode of rifting.
Plutons were formed along the flanks and axis of the rift. Molten rock moved upward along the old faults, but cooled before reaching the surface. Rifting then ceased and as before, the ocean advanced over the area. This time sands, clays and gravels were deposited, but were not buried long enough to form rock. The sediments remain in the Memphis area as a prism of unconsolidated material approximately 3200 feet thick.
The Memphis Aquifer
The diagram shows the layers of rock deposited during the ancient times of the middle United States as discussed above.