More about the 1990 incident
Residents chuckled at the commotion. Tom's Grill served up an "Earthquake Burger" (with a split down the middle of the bun). A local museum sold "It's Not My Fault" T-shirts.

"That was our 15 minutes in the sun," says city administrator Furgison Hunter. "If something real would happen here, we already store water and tell people to turn their gas off." H.H. "Buddy" Townsend, who runs an insurance agency on Main Street, recalls waking up in the night as a young man, with earthquakes sounding like a herd of buffalo running outside his window. Recently, he was cleaning out a shed and found an earthquake survival kit dating back to the 1990 scare. "The kit still had water," he says. "What it tasted like, I don't know. But, really, we don't worry about this. We were raised with earthquakes." - USA Weekend, Sept 3, 2004

Self certification of earthquake rules
We covered controversy over a convention center built on the Paducah riverfront. There were charges that it did not meet earthquake standards. Kentucky architecture laws were strict on the need for adequate earthquake-resistant construction, yet the architect, with enough certifications on his wall, could certify that his own plans were sufficient because of the special open-center construction of the building.
It's easy to see why builders and financiers balk at paying a few extra million dollars for quake protection, when the need -may- be overstated, or the best laid plans wouldn't help, anyway, if the entire area were crumbled from a big quake.
Did the strains and weaknesses in the bedrock of New Madrid come because of a big glacier(s) that stopped in central and southern Illinois, one just south of Carbondale, IL, and pushed the New Madrid subsurface?
Or did the fault (attempted separation) come when the ancient landmasses formed the continents we now know? Probably it was some of both. Consider how well the Mason-Dixon line has endured different types of stresses.

New Madrid in 1811
Book excerpt --- New Madrid was a favorite stopping-off place for river boatmen bound in both directions, and on any given day, the boats would arrive by the dozen. A frontier missionary once counted a hundred vessels in New Madrid's harbor.

There were boats loaded with planks from New York; dry goods from Ohio; pork, flour, whiskey, hemp, tobacco, bagging, and bale rope from Kentucky; similar items plus cotton from Tennessee; peltry and lead from Missouri; and cattle and horses from Missouri, Illinois, and Ohio. Some boats were floating mercantile establishments.
When the boatmen pulled into port, fiddle music filled the air, accompanied by a veritable barnyard symphony of roosters, pigs, cattle, horses, and turkeys, as the boatmen leaped from one boat to the next, meeting and greeting, renewing old acquaintances, forging new ones, dancing, gambling, and drinking. As a class, the boatmen were a rough-hewn lot -- tough, wild, profane, and prone to violence.
One of the boatmen's favorite amusements was called "sweeping." Taking a rope from one of the boats, a gang of rowdies would go ashore. One half of the bunch took one side of the street and the other half went across. With the rope stretched taut between them, the two groups advanced up the road, bringing down whoever and whatever was unfortunate enough to be in their path. Men, women, children, carts, horses, and cattle went sprawling to the ground, while the boatmen laughed uproariously at the chaos they had created.
After enough of these incidents, townspeople began to fight back.
from When the Mississippi Ran Backwards: Empire, Intrigue, Murder, and the New Madrid Earthquakes - By Jay Feldman, published March 2005
The city originated as a fur-trading post, established in 1783 by French-Canadian trappers, and was settled by American pioneers six years later. --encyclopedia.farlex.com
God is great!
We've encountered some Godly folks who are sincerely skeptical of claims the universe is any more than 10,000 years old. The "begats" in the Bible supposedly take you back through Christ, Moses, and Adam and Eve, within that period of time. We suggest that an appreciation of the thousands, millions, even a few billion years of history of our continent only show how awesome God really is.
How soon will the "big one" come, and how big will it be? Well, we've got other things to think about, today, so we'll just expect that it won't happen today.

-- fredkel at gmail com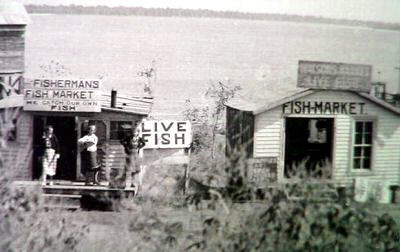 New Madrid fish market of the 1940s. Around the bend to the left 130 years earlier was a sudden waterfall. A bit farther was a Mississippi River uplift of several feet for a short time.
To the right, less than a kilometer was another uplift. Seven miles or so, downstream to the right, was another waterfall.
New Madrid's downtown dropped more than 10 feet in the 1812 quake.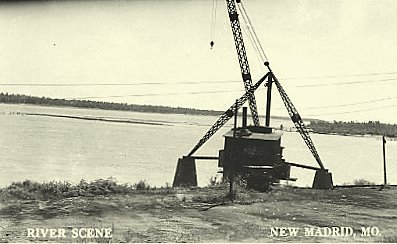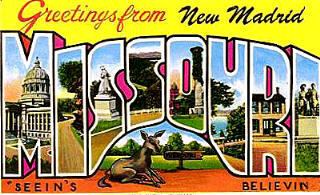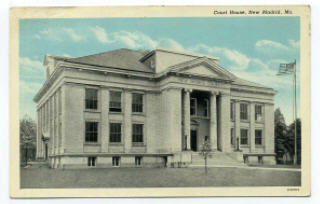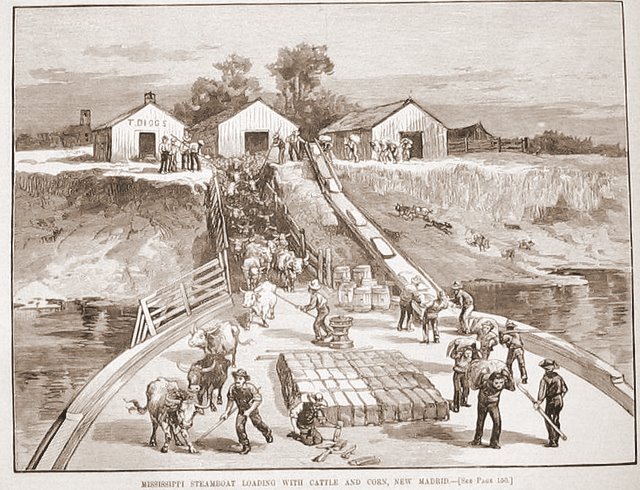 Powered by Show-Me.net