CGUSBCWBA
Cape Girardeau
USBC Women's Bowling Association
Cape Girardeau
,
MO
#83638
CGUSBCWBA board / association news updates :
e-mail address for the CGUSBC-WBA association: mdsides5@att.net
Annual Banquet : March 27th, 2008 held at the VFW hall in Cape Girardeau,
Notes from the 2008 Association Banquet.
Delegates voted on to represent Cape Girardeau USBC WBA at the annual state meeting in Jefferson City, MO May 31 and June 1 & 2, 2008. Delegates selected were: Carma Beshears and Mary LaBrier and Meleia Sides as the alternate.
Results of the voting for President and Directors:
President: Sheila Allen
Directors: Fara McDonald, Cathy Wright, Mary LaBrier, Carma Beshears, Angie Grissom, and Brenda Kennedy.
The members of the association voted in favor to put in the bid to host the 2010 Missouri State Women's tournament.
Sheila Allen and Dennis Hacker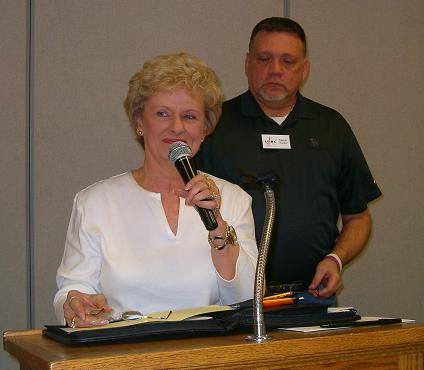 board delegates of the Missouri State Bowling Association explained some details around the opportunity for our local association to host the Missouri State Women's Bowling Tournament. A bid for hosting the 2010 tournament was voted on by the members present and was approved. If selected we need all association members to help with the tournament and help put Cape/Jackson on the map. Let's show the rest of the state what we can do.............