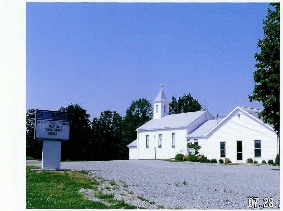 New Salem
United Methodist Church
Daisy, Missouri

History
Ministries
Calendar of Events
Welcome
At New Salem, you'll find a warm country welcome, and an invitation to get to know us better as we all come to know Jesus Christ better. There's a family feeling here, a feeling of caring and acceptance that is genuine, and is born in our relationship with Jesus Christ. We are a great place for your family to grow in Christian Discipleship and serve God in our world.
With easy access from Biehle and Jackson, the country church atmosphere is available to all. Surrounded by farms, New Salem has been and always will be a part of this strong, rural community. As new homes sprout up where fields used to dominate, new families have come to enjoy this traditional church.
Join us for Worship Soon!
Times of Worship
Worship 8:45 am
Sunday School 10:00 am


Southeast
District
Joys and Concerns

Directions:
From Jackson: West on Highway 72 to Highway B then to Highway AA at Daisy half mile to Church.



From Biehle:

South on Highway B to Highway AA at Daisy half mile to Church
Next
Pastor's Page
Open
Communion
Contact Information:
Telephone: 573-266-3406
Email:
steppedoutonfaith@wildblue.net