In recent years, numerous minor earthquakes or "microearthquakes" have revealed the presence of three deep subsurface faults in the New Madrid area. Two of the faults are southwest-northeast trending right-lateral strike-slips.
The southernmost strike-slip is called the Blytheville seismic zone and runs at least 70 miles from Arkansas through Missouri and into Tennessee. The other strike-slip fault is called the New Madrid north zone.
The third fault or Reelfoot fault, is a southeast-northwest trending reverse fault, which is located between the two strike-slip faults. On the reverse fault, the rocks on the southwest side move up relative to the rocks on the northeast side.
The main shock on December 16, 1811 may have been associated with activity on the southernmost strike-slip fault or the Blytheville seismic zone. The January 23, 1812 quake may have originated from the strike slip fault in the New Madrid north zone.
Radiocarbon dating of wood in the remains of ancient seismic features, including old sand blowouts, suggest that significant earthquakes occurred in the New Madrid system between 780 and 1000 AD, 1180 and 1650 AD, and 4,000 to 5,000 years ago. Magnetic measurements and studies of seismic waves that pass through the subsurface bedrock of the region indicate that the rocks around the New Madrid system have not been overly deformed over the past 300 million years.
Like other rift zones, the Reelfoot Rift is a sunken linear valley bounded by normal faults. The normal faults run southwest-northeast. The rift formed about 600 million years ago, but spreading stopped before the North American plate could be broken in two. Tectonic activity restarted in the rift zone about 100 million years ago during the age of the dinosaurs. Lava erupted out of the normal faults, perhaps from a hotspot that now exists near Bermuda. Currently, we don't know if the periodic earthquakes in the New Madrid fault system are related to a slow reactivation of the Reelfoot Rift zone or not.
Reference books: Hyndman and Hyndman, Sieh and LeVay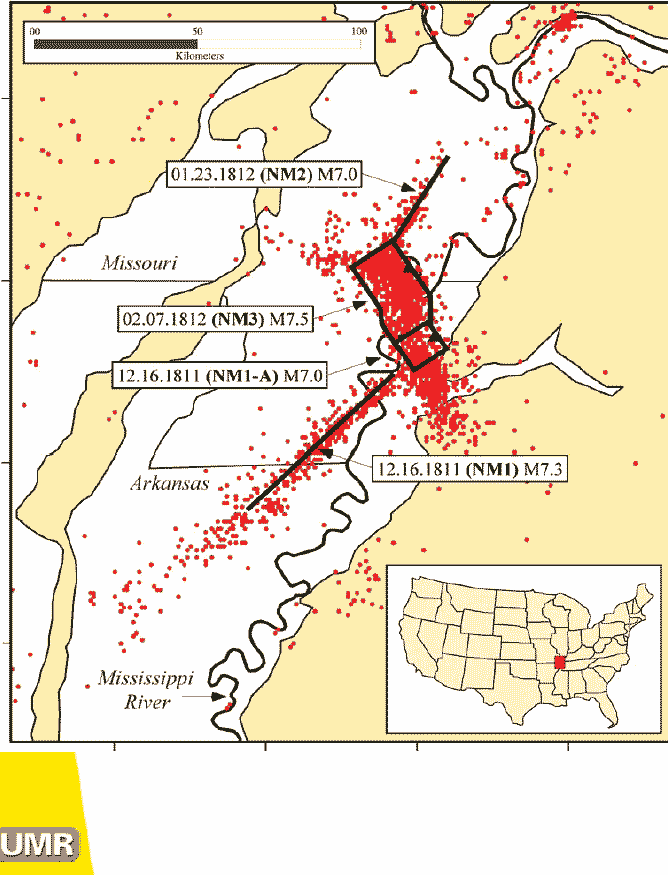 above credit David Rodgers, UM Rolla