Earthquakes and the New Madrid Fault Line
Seismic activity, maps, information
Loading
search this website.

What percentage of St. Louis homes are insured against earthquake damage? (Less than one third). What about the prime Bootheel counties? (Less than one third). 15 years ago it was two thirds percentage covered.

The Ste. Genevieve seismic zone is an "underappreciated area" of seismic activity. Indiana U NPR. Ste. Gen is 50 mi. south of St. Louis and 100 mi. north of New Madrid.

Reports (July, 2014) say the number of quakes in central-eastern US has quintupled recently. Why?

New hazard maps as of 7/17/14 Nat Geo US News

shakeout.org/centralus good reference

Good, knowledgeable overview - next quake busy being born, not dying

Maybe Mag 7.3 shake ahead? If the fault keeps slipping a few mm. each year (which it is), the tension over 500 years would be significant.

Bike ride the fault - plan for 2015 - ridethefault.com

1811 was busy in these here parts. St. Louis was expanding beyond Laclede's Landing. A comet kept people's attention. The first steamboat was headed this way. Then...

Myron Leslie Fuller investigated on horseback the effects of the 1811-12 quake. Here is a Popular Science article from 1906. In 1912, his 150-page USGS bulletin number 494 PDF link, (text) (reprints) further described his findings. A Fuller map is second on this page.

From page 106 of above, we note:
"The writer does not wish at this time to urge a structural origin for
Crowley Ridge, but simply desires to call attention to the occurrence
of smaller parallel lines of uplift and depression due to relatively
recent warping and to suggest that an earlier and stronger warping
of the same nature and in the same direction might have produced
a similar uplift along the Crowley Ridge axis. (see Commerce lineament)

The head of Missouri State Emergency Management agency discussed New Madrid Fault and safety - Mar 2014.

A USGS report of September 30, 2013 says the weak rocks under the Reelfoot Rift fault lines extend more than 100 miles down into the mantle, much farther than weak rocks found in other ancient rift zones in the central and eastern US.

The report is based on new methods of studying what's beneath the ground. This report does not yet say whether scientists are upping the chances of a big quake. It says the new data lets them look back 500 million years rather than 4,500 years. Data will require "further study."

more, from red orbit science magazine | SE Missourian | KFVS-TV | USGS news release

The new study methods included a thumper truck and an array of a few hundred moveable seismographs. The thumper truck page also includes a map with Reelfoot Rift boundaries in white. Here is a good general summary of NMSZ including the rift formation.

---

A good 26 minute video at:
youtube.com/watch?v=SSG5Q03n13U or
vimeo.com/38864818

Several printable resources
shakeout.org/centralus/resources/

Fracking forces water and chemicals underground to loosen natural gas and oil for extraction. Earthquakes seem to occur along with this process.

Recently (for several months) it happened north of Little Rock, near Guy and Greenbrier. They shut some of the reinjection wells down, but it still shakes some. In November of 2011 it happened east of Oklahoma City near Sparks and Johnson, Okla.

Sparks' Lincoln County, OK, has 181 reinjection wells. Cliff Frohlich, a seismologist and Senior Research Scientist at the University of Texas Institute for Geophysics, told KUT-TV, Austin:

"It isn't the fracking that's causing the quake. It's when they drill a well and produce it, some of the fracking fluids come back. They dispose of these fluids and it appears that the disposal of these fluids is causing the quakes, not the fracking."
"... they pump the water back into the ground into a deep aquifer to get rid of it. And the quakes have been associated with the pumping of the water back into the ground, not the producing of the gas."

Affordable seismometer for your PC

Tornado home shelter - search "safe room".

Some 500 seismology experts in Memphis heard that the 1811-12 New Madrid quakes probably weren't magnitude 7.7 or greater. Susan Hough, research seismologist with the U.S. Geological Survey, says they were more likely max 7.0. Not all experts accept the lower magnitude. See box below on "consensus". USGS website still calls them high 7's.

"A magnitude 6.4 to 6.9 quake near Memphis could cause up to $130 billion in damage to private property and businesses, while losses from a 7.7-magnitude event could surpass $250 billion. But at least 65 percent of damage would be covered by insurance."

From 2002 to 2009 fewer Mo. homes insured for quake damage. Coverage cost doubled in several counties. Less than half the homes are covered. Mo insurance commissioner calls on insurers to offer better products.

Missouri quake insurance stats / You better look out

Hough (2010) said maybe the ringing church bells were in Charleston, SC, not the Charlestown area of Boston. No mention in 1812 Boston papers of quakes ringing local church bells. Charleston, SC is in low-lying seacoast, more prone to amplify the shaking.

Play Beat the Quake. | Disasterville video game - quake prep

PBS / NOVA: "The rocks reveal a pattern of violent Midwestern earthquakes stretching back at least 15,000 years. The 1811-12 quakes weren't a freak one-time event. And if they happened many times before, then they will probably happen again."

Two recently-discovered faults. Marianna, Ark., on Memphis' western horizon, and...

Porter's Gap / Meeman-Shelby fault - 30 mi. long, along bluffs NW of Memphis. Evidence of a significant shake 2,000 years ago. "We don't know whether the fault is inactive or quiescent. Faults like this, far away from the plate boundaries, have a long repeat time. They might be quiescent for 1,000 to 3,500 years and then, all of a sudden, trigger a magnitude 8.0." Maria Beatrice Magnani, CERI, Mar 2010

You can find videos from poorly informed people on the internet. Please be wary of those who don't know how the locals say "New Madrid". The USGS offers videos from folks who have spent years studying quakes.

Is the New Madrid fault dying? A few college professors have declared it dying. They've been saying this for more than a decade, but the reports resurface as news every several months. The latest - Feb 2011 Nov 2011

"people in Memphis were able to use our results to avoid adopting a building code that would have cost them billions of dollars and I think that was a good use of new science" -Seth Stein

"flooding from glacier melt washed away lots of topsoil, causing a springing-rebound effect" that caused the 1811-12 big ones.

Differing expert opinions - from Nature.com magazine, 2005
Dangerous, yes | Not threatening

Two sharply conflicting press releases within four minutes of each other on Dec. 11th. 2006:

NM Fault may be shutting down. Mar. 2009
We urge you to take the newsworthiness of this "with a grain of salt". Calais has focused on the rebound from the weight of ancient glaciers (2005) as causing quakes. Stein has said many times (1999, 2007) NMSZ is "dying". Zoback (2006). Dr. Mian Liu at Mizzou says quakes, like lightning, as in his native China, never strike twice in same place.

Casting doubt - A 2010 AP story says a new study casts doubt that the New Madrid fault zone unleashed a series of quakes in 1811-12. Its author says she did not intend to imply such.

"Suggesting (current quakes) are just aftershocks and therefore (the New Madrid fault) is dead doesn't follow," says Susan Hough of the USGS (11/09). We have a seismic zone that produces earthquake clusters. The odds that it has shut off are pretty low."

"You don't want to be so open-minded that your brains fall out." - Hough

For recent earthquake activity simply type "earthquake" in a regular Google search box (not the one above). Or "earthquake Memphis", etc. to target a regional area more To see quakes in Google Earth - KMZ

"Saying that earthquakes will suddenly stop in an area that has had numerous large earthquakes in the past is an extraordinary claim. Extraordinary claims need extraordinary evidence. We simply do not have the deep understanding necessary to make a prediction like this.

"As scientists, we will play with all sorts of ideas trying to understand why earthquakes occur. However, as responsible citizens, we need to rely on the consensus process to give the public our best estimate of hazard. The consensus exists.

"It is there for government officials, emergency planners and the public to use. Please don't mistake ongoing scientific debate as lack of consensus."

Charles A. Langston is director of the Center for Earthquake Research and Information at the University of Memphis. 2/5/10 Memphis Commercial Appeal guest editorial


2/10 - Missouri's Governor convened a panel of officials in New Madrid who are on the front line of emergency response. From AP:

Missouri state geologist Joe Gillman said an earthquake the magnitude of the 1811-12 quakes is expected to happen just once every 500 years. But a moderate quake with a magnitude 6.0 to 6.5 is expected to happen every 90 years, and the last one was in the late 1800s.

"We are due, if not overdue, for a moderate-sized earthquake," Gillman said. "Such a quake could devastate power lines and underground water and wastewater pipes, and many buildings could crumble."


"All of the experts on our committee, other state agencies that we've talked to, other structural engineers and seismologists agree that the threat of an earthquake in the New Madrid area is great and still exists, and that we should do everything we can to prepare for that and to try to mitigate the effects of an event like that." -Ark. State Police Lt. Lindsey Williams, to a state legislative committee. - Jan. 2008
---
The New Madrid Seismic Zone (NMSZ) lies directly above an ancient failed rift, the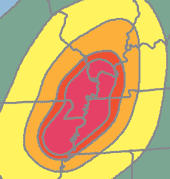 Reelfoot rift. About 550 million years ago, a rift began to form under the present day site of New Madrid [Vogel, 1996].
For unknown reasons, the rift failed and subsequently became filled with sediment. Similarly, 180 million years ago, as the Atlantic Ocean began to open, a rift developed near present day Charleston. This rift was successful. Over the next 180 million years, the margin of continental North America moved thousands of kilometers away from the spreading center, but the crust around Charleston, known as a passive margin, remains faulted [Johnston and Kanter, 1990].
The New Madrid (MAD'rud) Seismic Zone, midway between St. Louis and Memphis, has a history of shaking violently, about every 500 years. When it shook for three months in 1811-12, this was the western frontier, and the population was sparse. If it shook with that magnitude again, the devastation would make Hurricane Katrina look "like a Sunday School picnic."
The New Madrid fault system is a series of faults several miles below the surface. Experts say we're overdue for a "6" like the one in 1895 which shook down buildings in the Charleston, Mo. area. The "big ones" of 1811-12 were probably "7"s, accompanied by a few thousand smaller ones over 4-6 months.
Each unit of the Richter Scale is a tenfold increase in the relative size of an earthquake. A magnitude 6.0 is ten times the size of a magnitude 5.0, and one hundred times the size of a 4.0. But energy release is a different matter. A magnitude 6.0 releases 32 times more energy than a magnitude 5.0, and about one thousand times more energy than a magnitude 4.0 -- CERI

Most earthquakes happen when the edges of continent-sized pieces of rock called "tectonic plates" rub against each other. But New Madrid is in the middle of such a plate.
---
Silent Night, nine days before Christmas, 1811
The famous earthquakes of the New Madrid region began early on December 16th, 1811. The weather was "indian summer," a mild 45 degrees (Yes, people were keeping diaries). The stars were almost brighter than the visible sliver of the new moon. Without warning, after 2 a.m. the rocks violently shifted, a few miles below the surface, west of the present Blytheville, Arkansas. map
At 8 a.m., another large shift took place, near the present Cooter and Steele, Missouri. Then at 11 a.m., beneath the present Caruthersville, it happened again. These quakes are in the magnitude range of 7.3 - 8.0 for the 3 main shocks of the 1811-12 sequence (CERI, 2005). Big Lake, just west of Blytheville, was formed on this day.
"(first shake) lasted about a minute... made [residents] totter as though they were on ship board in a heavy swell of the sea" - Savannah Ga
Lasted from three to five minutes... rattling of glass and furniture was so great as to rouse every family in town." Knoxville Tn
[Feb quake] jerking was often repeated and violent. It seemed as if some monstrous weight had rolled or swung almost out of the power of the force which was restraining it. Newbern NC
[ Dec. quake felt in river bottoms near Buffalo NY ] Husband thought he was having a fit. Wife thought house was on fire. Bells rang through the house. Door, kettle, clothes swung. Felt like house was moving two feet back and forth. Several neighbors felt same. No wind or noise. Would like to account for this on rational principles. (see Newbern NC link)
The population on this western end of the country was still sparse. St. Louis had about 1,200 people, all living in the rock-based Laclede's Landing area now near its arch and the river. The future Memphis would not be handed over from the Chickasaws until 1818.
Jan. 1812
Five weeks later, about 8 a.m. January 23, 1812, another big shake struck, north of Caruthersville. The town of Point Pleasant, southeast of Marston, on a point of land sticking into the Mississippi River, completely crashed into the river and was swept away without a trace. The townspeople had all fled, a month earlier. because of the tremors. Eyewitnesses. Little Prairie, near Caruthersville, had a similar fate.
The Granddaddy Quake - Feb. 1812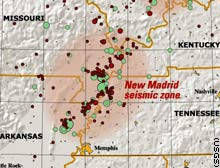 Perhaps the biggest quake came two weeks later, in the early hours of February 7th, 1812. The dip-slip motion may have produced the strongest quake ever recorded in the United States.
President James Madison even made a note of the shaking in a letter to Thomas Jefferson dated Feb. 7, 1812: "There was one here this morning at 5 or 6 minutes after 4 o'C. It was rather stronger than any preceding one, & lasted several minutes, with sensible tho very slight repetitions throughout the succeeding hour." (MSNBC)
Researcher Otto Nuttli wrote that this quake caused 60 miles of the New Madrid Fault to rupture. This caused waterfalls on the Mississippi, and the river to run backwards for several hours, in the river bends just northeast of New Madrid. This quake also created Reelfoot Lake in Northwest Tennessee.
Today an 800-foot power generation smokestack in St. Jude Industrial Park at Marston (just south of New Madrid, good photo) marks the approximate center of that quake. This could someday become a monument to dumb engineering. There are others.
An AECI - Associated Electric - power plant worker told us they feel a quake in the plant about once a month, amid the turbines and industrial atmosphere, but "everyone is used to it." The power plant employs 200, and can burn a train load of coal per day. A huge Noranda aluminum primary smelter plant alongside, directly employs more than 1100 people. Fall 2010: plant is expanding.
"Constant Shaking" for five months
There may have been two thousand quakes during these five months of 1811-12. Researchers Ray Knox and David Stewart, in "The New Madrid Fault Finders Guide" say any one of them would make front-page news today. The book describes land deformations from the quakes that may not be obvious to a new observer.
There were no seismographs then. Researchers estimate the strength by studying damage accounts and sandboils. Older texts refer to the the 1811-12 quakes as above 8 on the Richter scale. The Richter scale saturates and does not read the highest intensities, well. A revised magnitude scale estimates them as high 7's.
The tectonic plate under the New Madrid area was almost pulled apart perhaps more than once, hundreds of millions of years ago. The pulling created a weak zone called a "failed rift". If it had been separated, the New Madrid area might be on the Atlantic seaboard, and the southeastern US might be attached to Africa. A more recent rift is the Red Sea, separating Africa from Saudi Arabia.
150 -200 Rattles a Year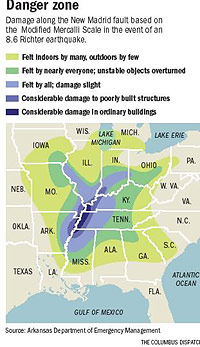 The New Madrid Fault now rattles its area 150 or more times a year. Many are three to ten miles deep. More on quake depths. Most of the shakes are less than 3.0 in magnitude, cause no damage, and may be felt only for a few miles.
A quake of magnitude four starts making serious news. A "four" quake can be expected every couple of years.
A quake with a six reading on the magnitude scale is serious within 50-100 miles. A six is expected every hundred years. The three "big ones" of the winter of 1811-12 (magnitudes above seven) were felt in Massachusetts and Virginia.
There's one report that President James Madison felt the 1811-12 quakes and thought intruders were in the White House.
A catastrophic quake, above magnitude seven, can be expected about every 500 years, though scientists say there's about a ten percent chance of one happening anytime in any 50-year period. Scientists find evidence of big quakes dating to 4000 BC and further, even though the river has washed away much of the older evidence. source
It is not uncommon to have perhaps three small quakes, magnitude 1.5 - 2.0 reported in this area in a single day in the counties surrounding New Madrid and across the river in Lake or Dyer County, Tn. Few people notice. Here's the last week's worth.
A resident just north of New Madrid may have a typical reaction to the threat. She told us she "never" feels quakes and is not concerned. She sees the weekly quake list in the local paper, and calmly says "most are over in Tennessee," perhaps thinking of the 90-minute drive by car. But the prime Tennessee earthquake counties are only 15 air miles from her home.
See en.wikipedia.org/wiki/New_Madrid_Fault
Sand boils, liquefaction, disappearing highways
Liquefaction is difficult for newcomers to grasp. It can cause a section of heavy interstate highway, or your house to disappear into the sandy soil when the subsurface sand becomes water-saturated, loses its friction, and pressure is applied. Builders also are slow to learn the lesson.
Human casualties could be in the thousands, per county.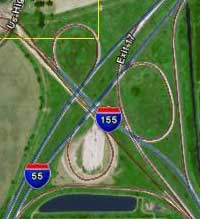 Planners expect sections of I-55 which connects St. Louis and Memphis to be unusable in the Bootheel after a major quake because of liquefaction on roads and bridges.
Pipelines
Some major refined oil and natural gas pipelines go in and near the area (see map), connecting the petroleum fields of Louisiana and Oklahoma to the chilly northeastern states. The MO emergency planning folks say three major lines run through Missouri's Bootheel. Two pipelines pass through Dexter.
Highway engineers in 2005 replaced a section of Interstate highway near Charleston, Mo. with pre-cast sections trucked from Memphis. The method may be used again in case of Bootheel liquefaction.
Rail, air, trucking, river distribution of goods in Memphis area is key to the nation. Contingency planning, business continuity, disaster recovery are growing topics of interest. Ask cusec.org
An "earthquake trail" for the tourism industry is being considered.
Wrinkling the mattress?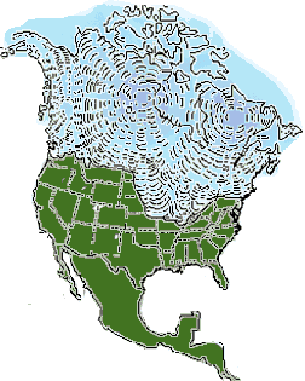 Glaciers, which came as far south as Carbondale, Illinois, then receded back northward perhaps 20 times over the last two million years might have caused underground pressure, like pushing on the end of a mattress, that further wrinkled the tectonic plate that was already cracked when it tried to pull apart much earlier. Search "illinoian ice" or "laurentide ice".
The National Park Service says a continental glacier covered North America 18,000 years ago. Its gradual melting period from 12,000 to 7,500 years ago, was the last in a series of continental glaciers that have formed and then receded over the last 25 million years. --nps.gov
M > 2.5 earthquakes, past day
7.7 fake quake, 34 seconds, 11 states
The Spill of National Significance emergency exercise in 2007 simulated multiple oil and hazardous materials spills caused by a strong earthquake along the New Madrid fault line. Here are damage estimates (PDF) to bridges and the river itself. Losses can exceed a billion dollars per county.
Fault understanding helps find natural gas energy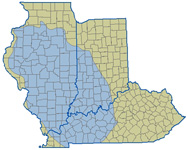 The Illinois Basin including Indiana and Kentucky contains about 86 trillion cubic feet of natural gas. It remains largely undeveloped due to poorly developed pipeline infrastructure and, until very recently, public policy that permitted meaningful gas production data to remain obscure from public inspection.

The Rough Creek Fault System in West Kentucky is the easternmost end of the giant New Madrid Fault System. For commercial shale gas production, faults can provide trapping mechanisms and fractures provide permeability pathways that allow gas (and oil and water) to move around inside the reservoir. Understanding the location, orientation and intensity of local faults and fractures systems is an essential science in commercial shale gas production. more
Movement | Strength | Topography | Commerce Lineament | Liquefaction | Recent quake | Maps | Origins | Preparing | Threat | This Week | Civil War-New Madrid